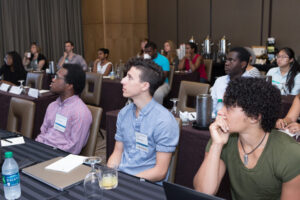 Welcome to the Postdoctoral Association at UMBC! We are a community of postdoctoral scholars who work across various departments and disciplines at UMBC. Our mission is to promote the professional and personal development of postdocs, provide networking opportunities, and foster a sense of community among our members.
About Postdoctoral Training at UMBC!
Postdoctoral training is an essential part of the academic and research enterprise at UMBC. Our postdocs are integral members of the research community and play a crucial role in advancing research and scholarship across the university. We offer a variety of programs and resources to support postdoctoral scholars, including career development workshops, mentoring opportunities, and social events.
Why Choose UMBC for Postdoctoral Training?
At UMBC, we are committed to supporting the success of our postdoctoral scholars. Our community is known for its diversity, excellence in research, and commitment to inclusive excellence. We provide ample opportunities for postdocs to collaborate with faculty and researchers across disciplines, as well as access to state-of-the-art facilities and resources.
What are the Benefits and Resources for Postdocs at UMBC?
As a postdoc at UMBC, you will have access to a wide range of benefits and resources, including:
Comprehensive healthcare coverage
Retirement plans
Professional development and mentoring programs
Networking events and opportunities to engage with other postdocs
Access to world-class research facilities and equipment
Competitive salary and benefits packages
How to Apply for a Postdoctoral Position at UMBC?
To apply for a postdoctoral position at UMBC, you should start by browsing our current opportunities on our website. Once you have identified a position that interests you, you can submit your application through our online application portal. We encourage you to reach out to potential mentors or faculty members in your area of research to learn more about opportunities and potential collaborations.
If you have any questions about postdoctoral training at UMBC, please do not hesitate to contact us. You can reach us by email, phone, or in person at our offices on campus. We look forward to hearing from you and helping you explore the many opportunities available to postdocs at UMBC.