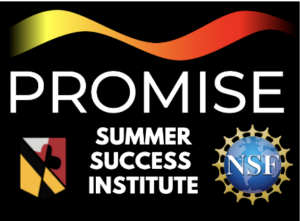 "Fulfilling the PROMISE"
Welcome to the PROMISE Summer Success Institute (SSI) 2023 website! This conference, hosted by PROMISE program volunteers from across the University System of Maryland, will be held in person on August 19, 2023.
Date: Saturday, August 19, 2023
Time: Conference runs from 8:30 AM – 3:00 PM
Location: This year, the Summer Success Institute (SSI) conference will be hosted at the University of Maryland, Baltimore County (UMBC) Campus, address: 1000 Hilltop Circle, Baltimore, MD 21250, in the Performing Arts and Humanities Building (PAHB).
Parking: Free parking will be provided for the conference. Please park in parking lot 8. Follow the campus signage with the conference logo.
Dress code: The dress code is business casual; please plan accordingly.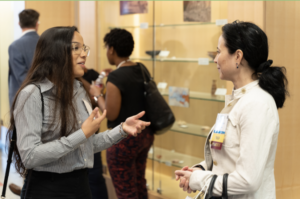 What is SSI (Summer Success Institute)?
SSI began as part of an NSF grant-funded program in 2003 to diversify the professoriate. SSI provides professional development, encouragement, motivation, career advice, peer support, and camaraderie, particularly for underrepresented graduate students and postdocs in STEM fields. However, many sessions are also helpful for broader audiences, including undergraduates and faculty across non-STEM disciplines. Interested students and scholars from any group or discipline are invited to attend!
Deposit policy/agreement:

By getting your ticket to attend this year's 20th anniversary of Summer Success Institute (SSI) you agree to be charged a $25.00 deposit per ticket. This deposit payable via credit card or debit card, is collected when you reserve your ticket online. Upon attending the event, this deposit will be reimbursed (minus the transaction fee). Please make sure to check-in in at the registration table at the venue. Any cancellations must be made at least 72 hours prior to the event to get a reimbursement.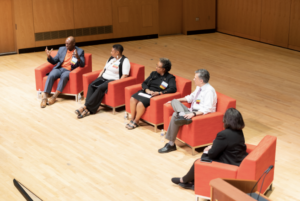 This year, we are celebrating 20 years of the PROMISE SSI program! Our conference theme,  "Fulfilling the PROMISE" will celebrate and honor the amazing work of PROMISE over two decades. We will have inspirational keynotes, including a welcome from PROMISE founders Dr. Janet Rutledge and Dr. Renetta Tull, concurrent sessions featuring panels of doctorates now working as educators, as federal agency employees, in industry, or as change-makers work in science writing, science policy, and public health. We will also have workshops to help you build skills to launch your independent academic career and create inclusive environments.
Importantly, this year we are bringing back regional alumni; please join them at 8:30 AM for breakfast to network. We aim to help you connect, understand the work you can do with your graduate degree, and grow in skills and fulfillment, personally and professionally. We hope you join us!
Agenda At-a-Glance
Time
Agenda
8:00 AM – 8:30 AM
 Registration
8:30 AM – 9:00 AM
 Breakfast – Round tables with PROMISE alumni
9:00 AM – 9:10 AM
 Welcome
9:10 AM – 9:30 AM
 Fireside chat with PROMISE founders Dr. Janet Rutledge and Dr. Renetta Tull
9:30 AM – 10:30 AM
 

Concurrent Session I: 

Teaching and Education Career Panel: Small liberal arts colleges, community colleges, high school, and non-tenure-track positions
Workshop: Starting Up Your Independent Academic Research Program
Federal Agency and Research Institute Career Panel

10:30 AM – 10:45 AM
 Networking Break
10:45 AM – 11:45 AM
 

Concurrent Session II:

Industry and Publishing Career Panel (Natural & Social Science focus)
Engineering Career Panel
Workshop: Building an Inclusive Department/ Research Environment

11:45 AM – 12:00 PM
 Networking Break
12:00 PM – 12:30 PM
 Keynote: "The Power of Connection" by Dr. Marisa Franco, New York Times bestseller and PROMISE Alumni
12:30 PM – 1:10 PM
 Networking Lunch
1:15 PM – 2:15 PM
 

Concurrent Session III:

Workshop: Inclusive Teaching Practices
Entrepreneurship and Start-Ups Panel
Workshop: Sharpening Your Negotiation Skills

2:20 PM – 3:00 PM
 Circle of Doctorates by Dr. Kaye Whitehead, Founding Director at The Karson Institute for Race, Peace, and Social Justice, Author, Radio Host, Faculty and PROMISE Alumni
3:00 PM
 Adjourn
As with all PROMISE activities, we welcome you to invite and include your family and friends in our program. We call this practice "the Jessica Effect," after the late Jessica Soto-Perez. In opening our program, we honor your community's cultural and familial influence and simultaneously promote understanding of your academic experience to those in your lives.
SSI is funded in part by the National Science Foundation (NSF), Directorate for Education and Human Resources (EHR), Division of Human Resource Development (HRD). NSF AGEP HRD Awards: University of Maryland Baltimore County (UMBC) (1820984), University of Maryland College Park (UMCP) (1820975), University of Maryland at Baltimore (UMB) (1820983), and Salisbury University (SU) (1820971), and Towson University (TU) (1820974), the Division of Equity for Excellence in STEM (EES) Award University of Maryland, Baltimore County (UMBC) (2217329) and the NIH-funded University of Maryland FIRST Program, Award 1U54CA272205-01.