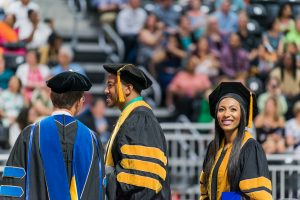 The PROMISE Research Symposium is an opportunity for students – especially those from historically underrepresented backgrounds – to view and present research and get feedback from faculty mentors, postdoctoral fellows, their champions, and future peers. The presentation categories of traditional oral presentations, lightning oral presentations (elevator speech), and TED-Style presentations enhance their professional development and scientific identity while providing the perfect scenario to network and find new mentors outside their academic departments or campuses.
Our PROMISE Research Symposium is hosted at the University of Maryland College Park in February; Abstract submissions open in October.
The symposium program includes time for live feedback on the sessions and professional development sessions. Usually, such topics include strategies and best practices for retaining and helping succeed students of color in science, technology, engineering, and mathematics (STEM) fields.